PRO FIREWORKS PROUDLY EMPLOYS OVER 100 MICHIGAN RESIDENTS.
PRO FIREWORKS SUPPORTS LOCAL CHARITIES IN ADDITION TO OFFERING 20% OFF DISCOUNTS TO ALL UNION MEMBERS, POLICE, FIRE AND MILITARY. SHOW YOUR CARD AND SAVE.
Pro Fireworks is currently Michigan's largest firework retailer. Across the state we have 14 permanent locations to serve your pyrotechnic wants and needs. After 30 years of servicing the industry, we could not be more proud to set up shop in Michigan. The mixture of knowledge, quality, and care we can contribute to the consumer helps us stay on top. Our product lines consist of Black Diamond Fireworks, Pro Fireworks, Brother's Pyrotechnics, Magnus Fireworks, Dragon Fireworks, Big Fireworks. Pro Fireworks closes the gap between the everyday weekend warrior and the industries professionals. It is your time to be a Pro
---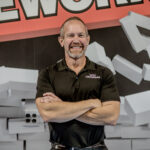 For the majority of my life, fireworks have been my passion.  For over 40 years I have come to form nationally dominating brands in the industry such as 

Big Fireworks

, Black Diamond Fireworks and 

Pro Fireworks

. I was the first to bring Sky Lanterns into US circulation and since then have sold millions, as well as donated them to such organizations as Make-A-Wish, Susan G. Komen and AIDs Foundation. In 2011 I successfully lobbied and changed the fireworks law here in the State of Michigan. My team and I own and operate 14 Pro Fireworks stores in my home state of Michigan.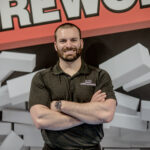 I have been in the fireworks industry for over 10 years and it was been a "blast." Every year it is a thrill preparing for the best time of the year, Michigan Summer's! I tend to think that we sell our customers a good time versus a product and it is all about the experience from start to finish you receive at Pro. All of our managers and employees genuinely love fireworks and it shows. Our stores are becoming a brand and our brand is becoming the staple here in Michigan.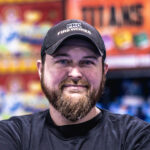 I began working at Pro Fireworks part time in 2015 while working full time as lineman in the communications business for 8 years. In 2019 I left the communications business started full time as the manager of our Roseville location. Since then, I have enjoyed making lasting relationships in the fireworks business and genuinely enjoy coming to work every day. I am married with 4 beautiful children (who you may see in the store from time to time) and love all sports. The Pro Fireworks brand is my pride and joy, and we work incredibly hard to make it an amazing shopping experience for all customers. Buying fireworks should be fun and that's exactly what it is when you shop with us!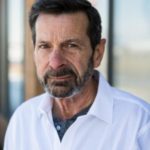 As a Michiganian my entire life, I've enjoyed a career as a senior purchasing agent. However, the opportunity to own three Michigan fireworks stores with James Stajos has allowed me to be part of an extremely exciting business. My goal at Pro Fireworks is to insure that our customers are having as much fun as I am. We create an atmosphere of fun, while providing our customers with the knowledge of our products, and the products performance, as well as helpful guidance and tips to make their experience as enjoyable as possible. I look forward to serving our customers and our communities for years to come.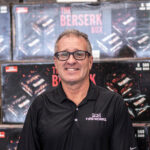 I came to Pro Fireworks with a business background but very little fireworks experience. Since then, I have learned to love fireworks and customers that buy them. I first started managing the Traverse City location. Within a year, I was regionally managing the west side stores and within another year I was made Chief of Operations, overseeing all of the stores. I have since had the opportunity to become James' partner at our Petoskey location. It has been a blast watching the industry grow, with Pro Fireworks leading the way!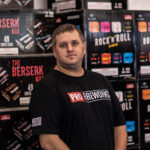 Fireworks have always been a major passion of mine, as well as computers and electronics in general. I started out as a VIP customer of Pro Fireworks. I then worked as a temporary summer seasonal employee while attending Bake College studying computer networking. I have been employed with Pro Fireworks since 2015.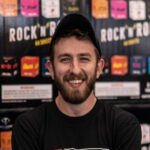 As long as I can remember my dad has called me a pyro, he wasn't wrong. Never in my life did I think I would have a job selling fireworks, let alone a career! After high school, I went to a technical college for collision repair. I started working part time at Pro Fireworks in 2017 while still working at a factory. In December 2020, I had the opportunity to quit the factory life and joined Pro Fireworks full time as our warehouse manager. Within a couple months I got my CDL and Hazmat certification, allowing me deliver fireworks all over Michigan!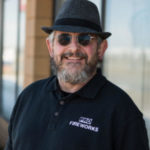 My background is in retail, with 40 years of management experience. In 2012, I began working for Pro Fireworks, with no prior experience with pyrotechnics. There is no doubt this is a very exciting career, and I have grown to love the company I work for as well as the customers that pack our stores. When I first started with Pro Fireworks, I was the manager of our store in Taylor, Michigan. There was so much to learn, and there was nothing better than interacting with customers and seeing the products in action! After that first year, I was approached by the owner, James, to run his busiest store in Sterling Heights, Michigan. Very quickly that store became my home and I became the regional manager for the Metro Detroit locations.It is a great honor to be where I am today. I cherish all of the relationships that have been built between our customers, and within this company. I am very excited to watch this company grow, and be a part of it.
After spending 5 years of playing College Basketball at Michigan State, I grew to love the Michigan area. I grew up in a small town in Ohio and fireworks have always been an enjoyment of mine. My experience of competing, leading and winning at the highest level of College Basketball, has allowed myself to master an attention to detail, process and consistency. Pro Fireworks, The Official Fireworks Store of Michigan, gives us that opportunity. Pro Fireworks makes me feel like family and a special place to call home in the Lansing area.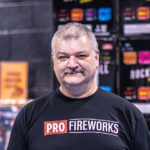 Since joining the Pro Fireworks team in 2017, I've had the pleasure of helping our customers create lifelong memories. Being in retail management for over 36 years, the one thing that I have always done is treat customers like friends and family. I love meeting new customers and building relationships with wholesalers. No matter how big or small your show is, I'll help fit you with the right products to make sure your show is exactly as you imagined. In my free time I enjoy running a YouTube channel doing product reviews under the name Darren Gator.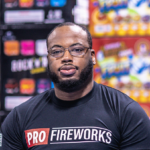 Ever since my first day, Pro Fireworks has treated me like family with much love & respect. I started working here in 2016 right after my mother passed away. This company was like a breath of fresh air for me, it gave me an opportunity to be part of something better in life both mentally and physically. With that being said, I am honored to call myself a Pro!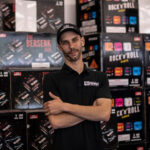 I originally started with Pro Fireworks in 2015 for an interest in fireworks, my management background, and to get away from a corporate atmosphere. I started out as the store manager for our 28th st store in Grand Rapids, took the warehouse shipping over that year as well, and by the following year was the regional manager for our west side stores. I have come to learn so much about our industry. It's amazing working for a local family-based company that cares, knows you, the customers, and gives back to the local communities. I love interacting with our customers. I get to know our VIP's, and what they look for on a regular basis, along with helping to explain what some of our products do, and what to expect from them for customers that may be new to buying/shooting fireworks.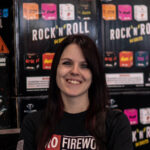 I've worked in the service industry for over 10 years in various positions, initially at McDonald's as a teen, and then in health care during my college years. I truly enjoy helping people in all different aspects, but helping people at Pro has to be the most fun! In 2017, I joined the Pro team starting as a cashier at the Grand Rapids location, and then becoming the manager of our Comstock Park location in 2020. I spend my spare time bar tending and taking care of my wild and strong-willed daughter, who also loves fireworks as much as I do! Working for a place that makes you feel like part of the family is awesome. I love sharing the passion for fireworks with all of our customers, and it's so much fun to help them celebrate! Even more, I also get to share this love with my family. It has been a great father-daughter bonding experience, and that makes it worth it!
My background is in Retail, with 25 years of management experience. I am a graduate of WMU,
with a Bachelor's in Business Administration. I have been working for Profireworks since 2020
managing the Kalamazoo location, and I have loved every second of it. I have a passion and a
great excitement for fireworks. I love to share, interact, inform, and build great relationships
with all of our new and valued customers.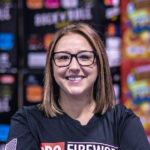 I've worked in retail/sales since my very first job as a teen. I started as a cashier for Pro Fireworks in 2016. I quickly was promoted to an assistant manager position where I then bounced around various locations in the Detroit area as needed. It was in 2018 when I officially took over as the Store Manager of our Centerline location. It's been an honor working with the Pro Team and my loyal customers. Over the years I've built great friendships while working here and I'm proud to have accomplished what I have for this company. I enjoy spending every moment I can with my fiancé and our two beautiful but super wild daughters who also love coming into the fireworks store! Fireworks are a passion of mine and I'm thrilled to help customers put together the best shows for the holidays.
I have been working for Pro Fireworks since 2017. I have a passion for fireworks and I love selling a product that makes people happy. My favorite thing is helping customers outdo their neighbors show from the previous year. I have 3 children who love Pro Fireworks just as much as I do. They are always asking if they can come in and help at the store. I'm excited to help take ProFireworks into the future.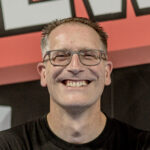 I joined the Pro Fireworks team February of 2021 as the manager of the new Lansing location. I was born just down the road at Sparrow Hospital on the 4th of July and have loved fireworks since I was a boy. I have lived and worked in the greater Lansing area for most of my life, and now, to share the love that I have for fireworks with the Lansing community is absolutely amazing.  I consider it an honor and privilege to be a part of the Stajos family legacy of selling fireworks on the corner of Larch and Oakland.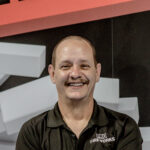 I have been working with James Stajos since 2011 in the fireworks business. In 2021 I became the Assistant Manager of our Lansing location. I grew up in Mid – Michigan where I raised my children here with my wife, Amy. Customer service has always been a passion of mine and I love helping them put together the best fireworks display on the block! The fireworks business has also been in my family. Much of my immediate and extended family members have worked with us over the years during the summer months when we are in our peak season. Merchandising and making our store pop is the name of the game and I have been deemed the best in the business! Come on by our Lansing location and let me help guide you to a great experience and an even better fireworks show!
I was born in Michigan and have had an exciting life living in states, such as Georgia and Texas. 

I joined the Pro Fireworks team with over 20 years experience in retail sales. I have been managing the Waterford store since 2017. Aside from my retail experience, I am also an artist who has accomplished many designs with painting. From being hands on, I have learned so much about fireworks and I like to share that knowledge with my employees and customers. 

Over time, many of my customers have become great friends and family. I love nothing more than making them laugh and smile every time they visit our store. I believe in giving them the best experience ever!

I can't wait to share many more memories with the Pro Fireworks family. Come visit me at the Waterford location!
I have spent most of my working life in sales of one form or another. I got involved in the fireworks business about 12 years ago on a fluke, which turned out to be the best fluke ever. Joining the Pro Fireworks team feels like a natural progression. I love blowing stuff up and watching stuff being blown up. I especially like helping people save money on stuff that they want to blow up. I look forward to working with our great customers and continuing the Pro Fireworks legacy!